We like to bring you stories from BetterPoints users who are using the app to make positive changes to their lives by earning rewards. Recently I spoke to Ian who is in the 'Get Active in Ebbsfleet' programme.
What Ian likes about using the app is – despite the fact he regularly trains and runs marathons, he still needs the encouragement to get out of the door just like everybody else. The app is really helping him to get more and more active.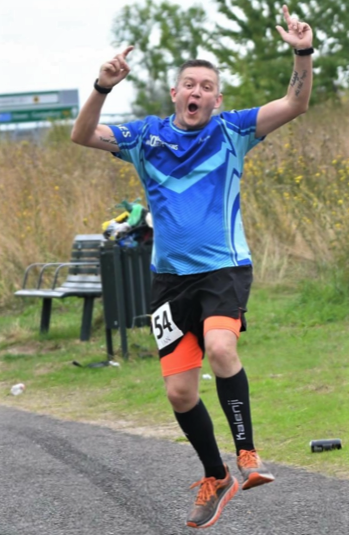 Here is what he said about discovering BetterPoints and the positive impact it's had on his health and well-being:
"I have at times become complacent and any excuses I could find not to go out have been used. I do get out training etc I have found the app keeps me motivated to earn points so maybe when I don't really feel like going for a run I will remember the app and think come on get out there to earn the points because we all know points make prizes! When I don't feel like going for a run I think of the points I could earn and get back out there…
He also went on to tell us about the other benefits he experiences:
I have also found it helps me to explore the local area a little more by keeping my activity local. This is a great tool to keep you motivated and I have recommended it to lots of people I know.
Ian then went on to describe how the app help his mind as well as his body:
Running helps to clear my mind, the app definitely helps me run more! So in that respect keeping me motivated to run helps with keeping my mind clear. I like the feeling of checking how many points I have earned at the end of an activity, it makes me feel good!
We also asked him how BetterPoints can help other aspects and people in your life?
It can help my family, in summer months I will walk to the park more with my kiddies and use app to record walks etc.

I raise money already for charity from running marathons so for the time being I will save my points up and treat myself but in future I may donate some to charity too.  And I plan to motivate some of my friends to get involved too.
Then finally we asked him his views on BetterPoints funded programmes being available to all:
100% yes – all areas need to get involved in this, anything that encourages people to get active is fantastic, and rewarding people with points keeps everyone motivated to carry on.  Thanks and keep up the great work BetterPoints." – Ian from Swanscombe, Kent
Thanks for your feedback Ian, you are proof that everyone deserves a bit of encouragement and rewards for being consistently active. We are so glad that BetterPoints is helping you along the way.
Good luck with your next marathon🏃‍♂️
Photos thanks to Ian.
 This story is taken from our BetterPoints partners who power our app which you can download
here